A trusted roofer in Auckley and Cantley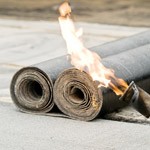 Choosing a roofer who can handle your particular roofing needs and who you can trust to do a professional job isn't easy.
A commitment to open and honest dealings with customers through clear, accurate and free cost estimates would be a good sign as would a guarantee on all work.
We provide this and more as part of the customer-focused service we offer to customers throughout Auckley and Cantley.
Why not call to see for yourself how we can meet pretty much all your needs and offer a quality service at a fair price?
The full service roofers
We're full service roofers providing a comprehensive range from basic roof repairs such as replacing broken tiles to fitting UPVC fascias and soffits and new roof installations.
Roof repairs
Guttering installations
UPVC roofline
Chimney repairs
Built up felt roofing
Slating, tiling
All flat roofing types
No obligation estimates
Your satisfaction matters
We offer a satisfaction guarantee on all work and we're serious about making sure you're confident you've chosen the right roofer. We're confident you'll call again in the future just like many existing satisfied customers do.
Why not make that initial call today? We're on 01302 429775.