Flat roofing in Doncaster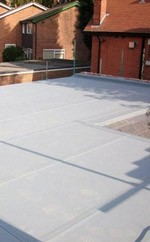 Need your flat roof repaired or replaced? Thinking of having a new one fitted? Whatever your requirements, you'll need a qualified roofer you can trust so as to ensure your flat roofing work will last for many years.
Call the flat roof experts in Doncaster now. We've been serving customers in the area for several years and have built an excellent reputation for high quality, affordable roofing work undertaken by experienced and trustworthy tradesmen.
With flat roofing - particularly with an existing roof - you need honest and trustworthy advice. For example, repairing a flat roof may be less cost-effective than replacing it entirely.
But you'd want to be sure that's the best advice - not just the roofer persuading you to spend more money when a simple repair might do.
Your flat roofing specialists
The various options regarding flat roofs such as materials used and roof types can be a minefield, but we'll help you here.
We are familiar with all types of flat roof systems
To each customer, we provide free and accurate estimates,
You are assured of our honesty and integrity every time
Peace of mind for Doncaster and district customers
Along with honesty in all dealings with you, we're happy to provide a satisfaction guarantee on all work for your reassurance.
Why not get in touch to see how we can help you with your flat roof requirements? Call now on 01302 429775.