Expert built up felt roofing in Doncaster
Among the choices of flat roof types is built up felt. Not only does it provide one of the best finishes available, it's also one of the most affordable flat roofing types. As it's name implies, the roof is created using layers of roofing felt between layers of water resistant bitumen. It's inexpensive, long lasting and easy to repair.
Almost every time, a well fitted built up felt roof will outlive its suggested life span.
We'll happily visit you to discuss your requirements and provide a free and full estimate so you can proceed with confidence you're getting the best roof solution for your requirements.
Your choice for built up felt roofs in Doncaster
If it's built up felt roofing you're wanting, then you'll be looking for a qualified, experience local roofer with the expertise to fit it for you - and fit it well so it remains watertight and trouble free.
Our firm is fully experienced in built up felt roofing and repair work
We offer open and honest advice on which is the best flat roof option
We always offer you a free, no obligation roofing estimate
Choose with confidence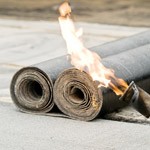 Along with the enviable track record we enjoy throughout Doncaster, free estimates and a commitment to helping you make the right decision, we can enhance your peace of mind further by providing a satisfaction guarantee on all the work we carry out for you.
See how we can help you with your built up felt roof. Call the local professionals now on 01302 429775.