UPVC fascias and soffits professionally fitted in Doncaster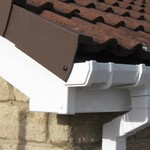 Your fascias, soffits and bargeboards fulfil a vital function in keeping your home watertight. Deteriorating woodwork (or even older, poorly installed previous UPVC) can be a sign that your home is at risk of water ingress - not to mention the poor appearance caused by rotting wood or dull, yellowing plastic.
A new UPVC installation of fascias, soffits, bargeboards and guttering from the area's experts will instantly enhance the appearance of your Doncaster home and secure it against the elements for years to come.
UPVC is virtually maintenance free: no more extensive rubbing down and re-painting wood every few years, just a quick wipe down will do.
Reasons to choose us to fit your new fascias and soffits
We're fully experienced in fitting new UPVC to all types of property, and modern manufacturing techniques mean there should be a design that suits the look of your property.
You'll be served by a team of highly qualified professionals
We use the latest, most modern and up to date materials
We offer all customers a satisfaction guarantee on every job
Quality installation, fit and finish comes as standard
The image of replacement roofline products is often one of pressure selling and horror stories of sub-standard work. The reputation we've built up over many years shows we're reliable experts you can trust.
We back this with a full satisfaction guarantee on all work to give you the confidence you've chosen the right team.
Just pick up the phone and call now on 01302 429775.