The rubber roofing experts in Doncaster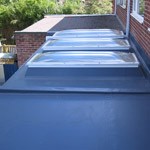 There are many benefits to a rubber roof (or EPDM as it's also known). The winning combination of low maintenance, durability, easy repairs, strength, the ability to reflect heat from the sun yet insulate for warmth, and long-life make it a popular choice for a flat roof.
EPDM rubber can be used in a number of flat roof installations including extensions, garages, carports, outbuildings and many more thus making a convincing case for itself.
That said, it's vital to have it fitted by thoroughly trained professionals so as to ensure your roof performs exactly as it should. Don't use anyone but the experts!
That's where we come in:
We're your ideal choice for rubber flat roofing
As a roofer with many years' experience, and an ever-growing number of satisfied customers throughout the Doncaster area, we're fully experienced EPDM roofing installers.
Our staff are fully trained in specialised rubber roof fitting
We provide transparent, free and no obligation estimates
Ours is an experienced local team roofers with an enviable reputation
Guaranteeing your satisfaction
We've built a reputation based on professionalism and honesty, and we back this with a full satisfaction guarantee on all work to show you how committed we are to ensuring your peace of mind.
Why not discuss your requirements today? We'd be delighted to help, so call now on 01302 429775.