GRP fibreglass roofing in Doncaster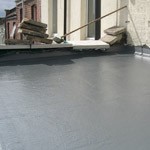 Fibreglass, or GRP as it's often called, is an excellent choice for your flat roof. Its main benefits are strength and durability along with it being maintenance free.
GRP has a long life span compared to other roofing types, can be specified in a variety of colours and is highly waterproof due to there being no joints. It's a proven roofing solution having been in use for around 50 years.
Fiberglass is a very cost-effective flat roofing choice, too. It's only marginally more expensive than felt and usually offers a significant cost advantage over EPDM.
We want to help you make the best choice of fibreglass roof for your needs, and be happy with that choice for many years to come.
Fibreglass roof experts in Doncaster
When you're thinking of having a new roof fitted, it's important to choose the right contractor for the job to ensure a trouble free installation. Why are we your logical choice?
We are highly experienced in fitting GRP fibreglass flat roofs
We always offer a no obligation and full, free estimate
Every roof we fit comes with a complete guarantee of satisfaction
Peace of mind for your flat roof
Along with a fine track record in the Doncaster area for customer service, experience in fibreglass roof installations and a policy of honesty with unbiased advice, we offer very competitive prices, too.
Why not find out for yourself. Just pick up the phone and call now to discuss your fibreglass flat roof needs on 01302 429775.