High quality professionals throughout Doncaster
We're the only team you need if you're in Doncaster or in any of the surrounding areas listed below. With a full range of services covering everything from installing a whole new roof to undertaking basic repairs, we're the only company's phone number you need make a note of to ensure your likely roof-related needs are met.

We're fully experienced and trained in all the services we offer, and enjoy a fine reputation throughout the area for providing high quality work at affordable prices. We're fully open and honest in all dealings with customers - we're glad to offer sound advice and provide accurate, free estimates on all work.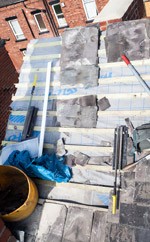 We want you to be satisfied and confident you've selected the right firm, so we provide a full satisfaction guarantee on all work for your peace of mind.
It all starts with a visit to allow us to give you an accurate price for the work you need doing. We'd be delighted to discuss your needs and advise you, so if you live in Doncaster or any of the areas listed below call now on 01302 429775.