Guttering repairs and replacement in Doncaster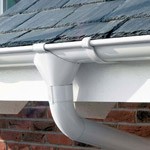 Guttering is a vital but often under-estimated part of your roof. Even a minor leak in your gutter can have serious implications as water can easily get into your property instead of being safely drained away with efficient guttering.
Your gutters take a fair amount of punishment with rainwater and the elements over time, so it's inevitable they will need repair or replacement at some stage.
With several years' experience of repairing and fitting guttering to all types of property, you're in safe hands when we work on your gutters. With an enviable reputation throughout the Doncaster area and a guarantee on all work, you can be confident you're dealing with guttering experts you can trust.
High class service throughout Doncaster
We're more than happy to discuss your requirements, explain clearly the work we recommend, and complete the job swiftly and efficiently. It goes without saying you'll be dealing with fully experienced, trained and courteous staff.
Fully experienced in all aspects of gutter repairs and fitting
Free and full estimates on all work
Satisfaction guaranteed for your reassurance
Putting the customer first, every time
We hope the combination of expertise, experience, a strong reputation in the area, free estimates and a satisfaction guarantee means you'll call the number below for your guttering needs knowing you're dealing with a company who place customer service first.
Call now on 01302 429775.