A trusted roofer in Rossington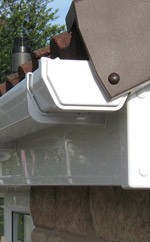 If you're looking for a roofer you can trust in the Rossington area, we're the professionals to call.
With several years' experience and many satisfied customers, we offer you the reassurance you're dealing with a roofer who will produce quality work across a wide range of roof-related tasks. No job is too big or small, whether a basic roof or chimney repair or the fitting of a whole new roof.
We're highly committed to putting the customer first and making sure you're fully confident in your choice of roofer. To this end, we offer clear and accurate free estimates and a full satisfaction guarantee on all work for your peace of mind.
A full service roofing company
You'll benefit from knowing we're the only roofer you're likely to need as we offer a comprehensive range of services, as you can see from the selection below.
Flat roofing work
Slating and tiling
Fibreglass roofing
Built Up Felt
Chimney repairs
UPVC roofline
Gutters & guttering
Roof repairs
First class customer service
We enjoy an excellent reputation in the local area, and this is based on customers trusting we'll do a top quality job at a fair price. We hope this along with a satisfaction guarantee shows we're roofers you can have confidence in.
Whatever your roofing requirements, call 01302 429775.