Thinking of fitting solar? What lies beneath?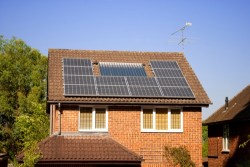 As a roofer, I spend a lot of time perched high above people's gardens. It may not be apparent but roofers and gardeners have more in common than you might think. By the end of the summer, the patchwork of colour creates a soothing backdrop to the monochrome of urban roof tiles. However, there is an emerging blue shimmer across Britain's rooftops these days: the spread of the solar panel.
Your roof can now generate income and free electricity but before you embrace the green revolution take the time to get an expert to check the underlying state of the roof itself.
I've lost count of the times I've gone to fix a leak only to discover that before I can even assess the damage I need to lift and shift an array of solar panels. This requires scaffolding, adding considerable cost and delay to the job.
After lifting the panels, we find disintegrated felt, rotten laths and trusses, damage that usually predates the installation. Work that might have cost £100 can cost six or seven times that amount, not to mention the interior damage, usually the first sign that something is wrong.
We have teamed up with local solar panel installation companies to provide an inexpensive pre-installation roof assessment, which may save you a lot of hassle and cost further down the road.
A leaky roof often remains unseen until the advent of persistent rain. Rain is the lifeblood of my profession therefore but it also makes the job more dangerous and can sometimes prevent any work at all. Like gardeners, therefore, roofers love the rain, so long as it only falls at night.
Call us to find out about our pre-installation assessment service.